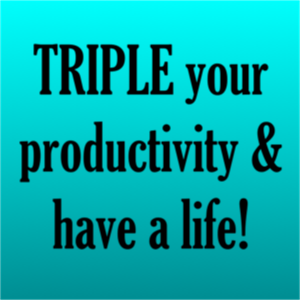 "As a result of the program, I have my email under control for the first time in my life and my business has already grown by 10% in just a few weeks. And most importantly, I have shortened each work day by at least an hour a day and I spent that precious time on MYSELF!" 
  —  Bonnie C., Owner, Design Source, Inc.
Do you want to be more productive without pulling those LONG work weeks?  More importantly, do you want to leave work on time or even early for a change? Do you wish you had the time to do the stuff you really want to do?
Well this is your defining moment. You can take action NOW and overcome your time traps once and for all.  Or maybe you're thinking "I'm not so sure yet." It's understandable if you need to think about it. Perhaps you've done things in the past, and they haven't worked.
Are you worried about wasting more time and more money?
Are you uncertain whether this program is all that it claims?
Or perhaps, you're scared that you will go through the program and revert right back to your old habits?
If you're not ready, we'll be here when you are.
Maybe some of this information can help you make a more informed decision.  First and most importantly, we'll promise to commit to your success. In fact, we're already anticipating a "happy dance" in your honor. We're confident that we'll get to the core of your challenges and show you how to make lasting change (based on proven systems, habit change and the science of willpower).  In other words, we know how to use neuroscience and we're not afraid to do it!
So here it is …
RefuseOrdinary Presents:   Rock Your Productivity Mojo – Time Management Program
What you get:
Reduce the amount of time you spend at or on work by up to 20% – 50%
Be the MOST productive you have ever been
Break your cycles of procrastination, being overcommitted, and being distracted once and for all
Learn how to adapt and customize this proven Time Management System to work for you
And most importantly, have the option to do this program at home, at work or even in your PJs!!!
How you get it:
Weekly group calls (only 30 minutes each)
Funny and instructional YouTube videos
Easy-to-use weekly activities
Weekly one-on-one coaching and much more!
What do you learn each week:
Week 1: Where are you spending your time?
Discover some of the limiting beliefs you may have about managing time
Learn where you actually spend your time vs. your perception of where you spend your time (you'll be surprised)
Week 2: Traps, strategies, and the 3 types of time
Learn how identifying and using the 3 types of time can change how you invest your time
Identify and learn to mitigate your time traps like:

Taming your email
Meetings gone amuck
Smartphone rehab
Learn which tasks to prioritize (probably not what you think) to increase your productivity
Week 3: How to get more out of less time
Understand the science behind why we get so distracted
Explore and implement proven strategies to improve focus on the tasks that actually make you more productive
Learn a proven way to make your new habits stick
Week 4: How to make or break your work calendar
Create a fool-proof system that reduces or eliminates those days you spend putting out fires
Integrate and adapt the calendar system to power-boost your productivity
Now that work is humming along, start using all of these strategies to get more time in your personal life
Week 5: Making it all work
Summarize all of the major lessons
Strategies for handling future challenges
How to keep rolling with what you learned so you can remain unstoppable
Additional resources
Next Class Coming in March!
What are people saying about the program:
 

"Your counsel reduced our personal stress and made our business vastly more profitable. I was so pleased with the results with time management that I brought them into work with the entire staff." - Dan G., Partner, JGB Law Firm

"I now consistently save 5 hours a week at work and I go home on time every day." - Michelle B, C.O.O., Financial Services


"I incorporated the weekly lessons and found the much needed quality time with my family. I expect a better year because of the insight and direction from Chris and Will." - Deliah H, Account Executive, Sentara Healthcare

"It was clear after the first few exercises that I could reclaim about 30% of my time with your system." –  Jerry W.

"The email system they teach you is amazing! That alone has saved a TON of time. Now I can focus on the things that make me and my staff more productive and we are really turning around this quarter!  I was so impressed; I recommended this program to several other departments and even my boss." - Mark B. Managing Partner, The Mergis Group
So how does this work again?
You'll dial into a 30-minute weekly call where we will discuss the lesson of the week. Each lesson comes with an exercise assignment that you can implement and put into practice immediately. The assignments are building blocks that will help you put the time management puzzle together. During the call, you'll be able to participate by sharing questions or challenges and hearing insights and success stories from others. Don't worry, if for some reason, you can't make the calls, they are recorded, so you can listen at your convenience.
You also receive one-on-one coaching calls each week. You get a 15-minute power session to help you stay focused and accountable each week. If you need anything else to sweeten the deal, you also get our No-Hassle Money Back Guarantee. If you aren't completely satisfied, you get your money back. It's that simple. In other words, there is no risk to you. Nada, nilch, zip!
Next Virtual Class Starts In March.
If you have any questions, don't hesitate to ask us.
Want the productivity of your team or organization soaring? Ask us about our special rates for groups of six or more!